Today's ride in Paradise, without the surf.
---
Took off around 8 this morning in bright blue perfect Queensland skies, however it was only 8 degrees C!!
Today's plan was to enjoy the many wiggly roads in the Di Aguilar National Park, just west of Brisbane, so I did the M1 utterly boring freeway for 60 or so kms to get there, stopping midway to put my winter gloves on, got rather cool!*
I'd wrote a linear Map with directions and street names so I could find a particular entrance in the suburbs of Brisbane, that went pair shaped when I got properly lost in the maze of the city streets, so I headed in the general direction and the KTM God's must've been looking as I accidentally stumbled into my exact route plan!
*
Mt Glorious road, what a ride! Seemingly endless bends! Hardly a car to be seen! Brilliant start.*
Winding my way thru the forests I landed in Samford village and stopped for brekky, coffee and warm up, by then the sun was high and the day was magic!*
Plenty of chat about my bike as it got quite a bit of attention, such a sexy beast haha
Continuing on thru various winding roads I stopped at Mount Mee, a favorite bike stop with a great view, many a rider went past during my brief stop.*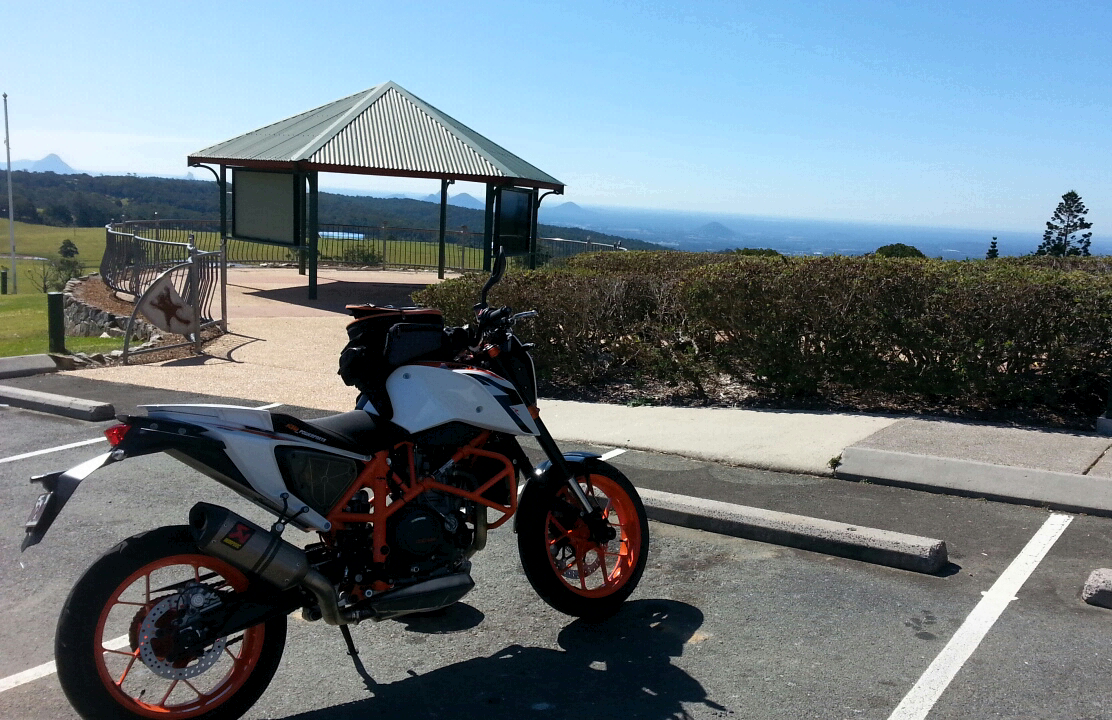 Onwards thru to Kilcoy and then down the side of Brisbane's huge water supply, Lake Wivenhoe.*
Long comfortable bends and straights, ended up back in the park on a rough section with some magic bends, almost coming to grief round one bend which had deep cuts with repaired road sections that didn't join very well, skidding the front end out causing quite a close call, dunno how I managed not to lose it.*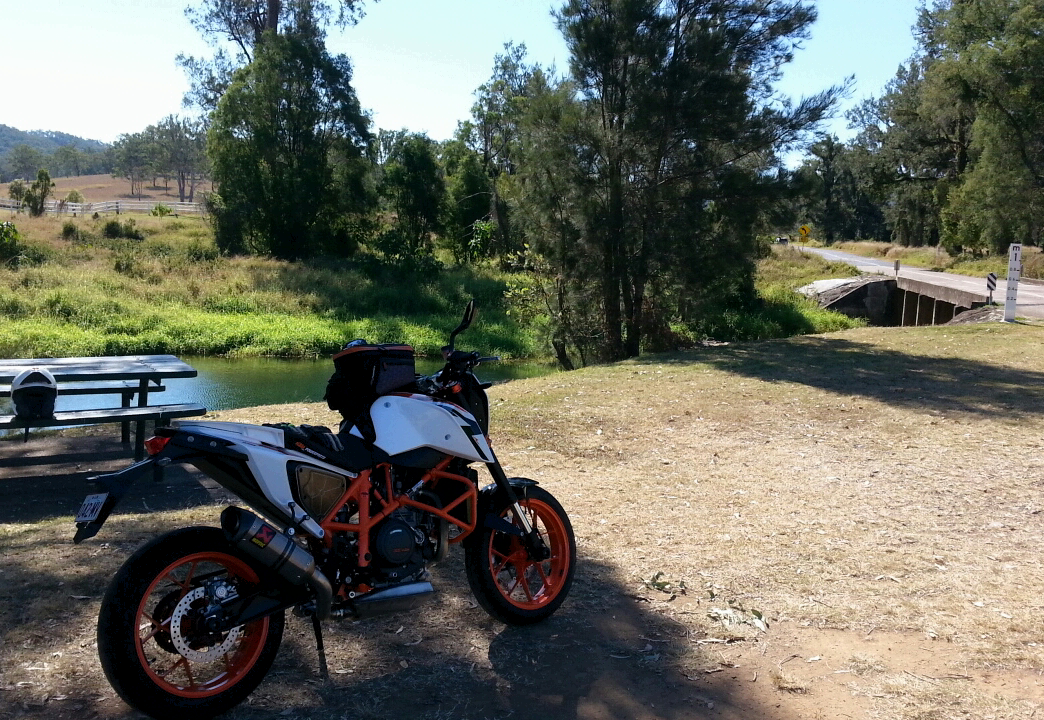 Stopping here n there for a cig, drink etc, can't help but enjoy the look of the R, I softened the suspension and had no harshness on bumps, very pleasing! Although on occasions the rear end would get a bit spongey on some rough bends, I might harden it a little.*
After not riding since January, today's fun did leave me a little worn out, on the way home along that freeway I decided to detour on the Tambourine road, ending the ride with more beautiful bends before arriving back home around 4.*
476 kms traveled, covering some of the best roads on the Duke!*
That was my Saturday! *Brilliant!*
PS: Took the baffle out this morning too, love that sound
Great story and pics. It's great to see where other Duke owners live and ride. It's the warmest part of the year here and you can bet I'll be riding after work too. Thanks.
Sunday August 9
A brief walk out my front door to check out the weather soon saw clouds roll in, but it warmed up and with no obvious sign of rain, what else to do than start up the Duke!*
After yesterday's epic mileage I thought I'd just hang local, as well as being Sunday, all and sundry were out on their Sunday drives visiting boutique galleries and cafés, not the time for a serious ride.
So a coffee n cake at Canungra café was on the agenda, *with a lovely array of bikes coming and going, mine was the only orange there!*
Too short a ride to just go back home, I took another route up the hill towards Tambourine and had some food fun on those rough bends, stopping at a hillside lookout.*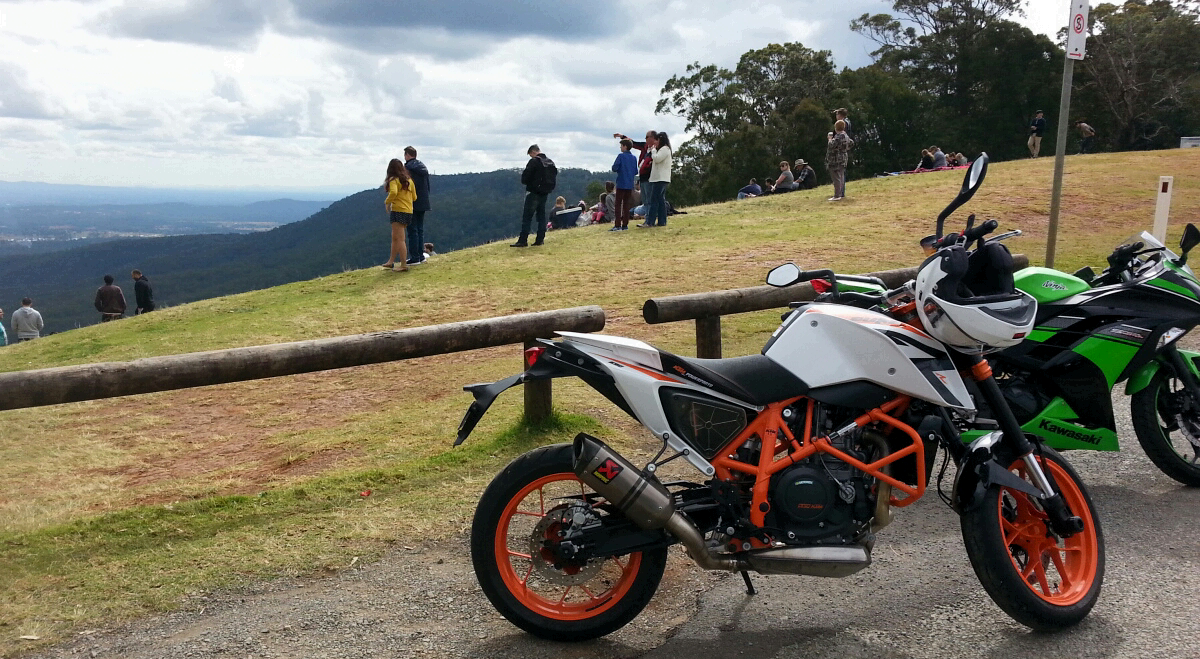 I wonder which one is the better looking in this group?*
Short and relaxed Sunday on the Duke, now overdue for its first service, chain is loose, oil is low in the window, so I'll put it in this week and get it checked out, refilled and ready for another weekend of fun and revs!*
First service day!*
Arrived at the local KTM dealer to get my first service done, 1300kms in 3 weekends of fun.*
Instead of hanging around for the expected 2 hours they gave me a loaner to ride, fancy that-it was a standard Duke 690.
Lovely bike, very different feel to my R, this one had a no baffle slip on, too loud for my liking.*
So, what else to do but head up the mountains. Canungra, Café Metz, lovely place, yummy food and good smiley service!*
After a brief walk around the antique shops I took off up to North Tambourine and stopped at the lookout.*

Nice, relaxing view, chatting with the hang glider, tourists and generally enjoying a bright sunny day!*
Then I got the txt that my bike was ready. Nice.*
Returning down the winding mountain, enjoying the sweet memories whilst riding the loaner Duke, the R is definitely more smother, better over bumps and more feel in the brakes, apart from being taller.*
I do miss that standard seat though, probably the best I've had!*
The dealer is putting in a warranty claim on that fuel cap cause it won't stay open, everything else seemed quite ok, got my beastie back nice n clean.*
Well, after a morning of relaxing sunny mountain roads I had back to work on my freshly serviced R, loving it every curve and corner!*
That's half a day in Paradise for me!*
---
Nice report. Love the pics
---
2015 SDr 1290
2014 Duke 690
2014 Husaberg 350 FE
SATURDAY AUGUST 15
Took a nice ride down the GC Hwy turning in at Burleigh, only a short distance from home I was soon in hilly, bendy mountain roads. Heaven.*
About 20km from Murwillumbah in the middle of this meandering forest covered winding road my FUEL LIGHT comes on! OMG I thought, I wonder how long it has before I'm pushing it lol.*
Slowing down a bit, conserving fuel I got onto a long downhill section and encountered a huge semi trailer carrying some enormous machine, taking every bit of the road and corners, doing about 5kmh, I didn't mind, I'd be getting good distance on my near empty tank!*
At one point whilst cutting a corner the truck's rear most wheels went over the edge causing a nasty tip angle on the truck, parts of the road, rocks and dirt went tumbling down a steep drop with me right there wondering if I should get my camera out or turn round quickly!*
But it saved and the lady driver stopped shortly afterwards to let me pass.*
Made it to Murwillumbah, filled the tank, 11.5L, not much left if I'd missed that stop!?
From there, a brief run to Uki, a small 'new age/hippy' town full of friendly folk, and nice coffee, had many a chat with older guys who had bikes 'back then...'
Spectacular scenery with not one photo, sorry, enjoying the ride too much haha
But, I did stop in a forest somewhere and just enjoyed the look of my lovely R.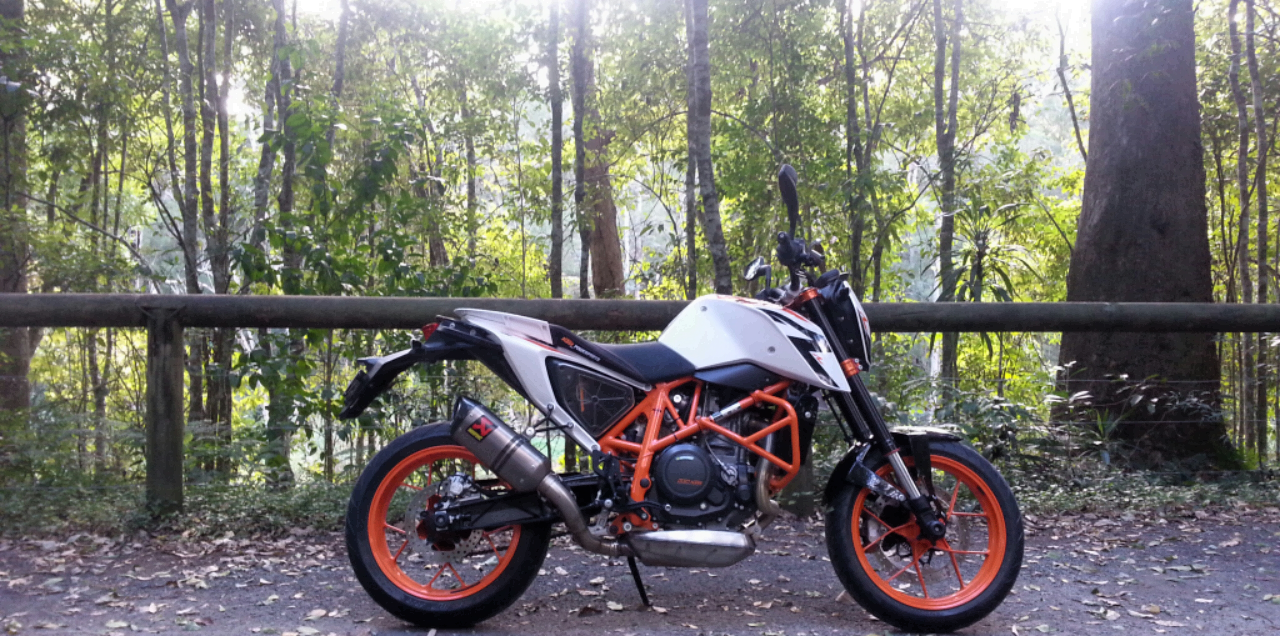 Returning via Chillingham, Beechworth and another coffee, snack and chat at Canungra before heading home to the beach.*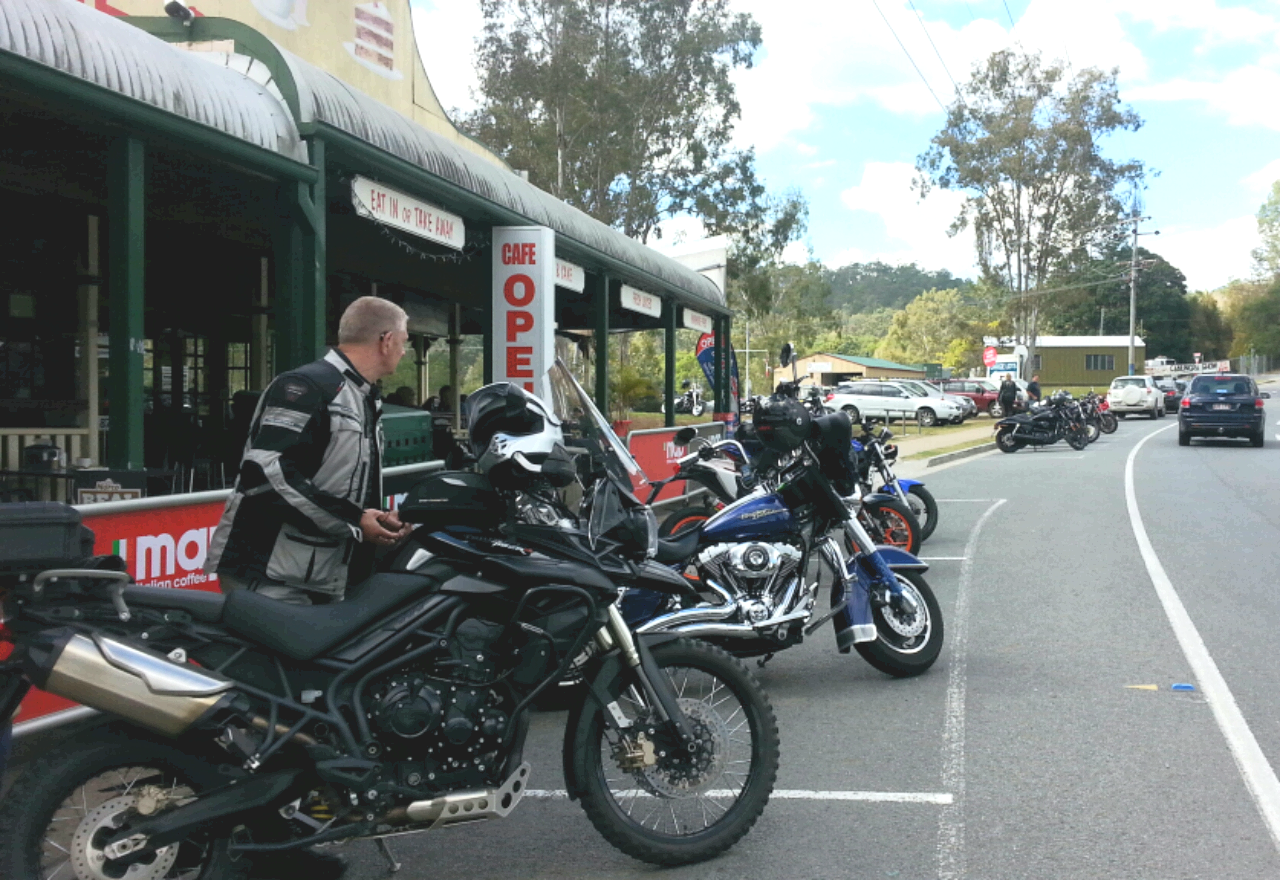 A few unmarked patrols passed me oncoming, luckily not turning round
Lovely Saturday, bright, sunny and a cool 20c,
Another day in Orange Paradise
Sunday August 16.
Cloudy, drizzle patches; not the Sunday morning I'd imagined.*
After Resetting the suspension last night, *I was eager to get out and play. But, sleeping in was weather dependant.*
After checking the skies, the radar, I didn't really care much, I just geared up and took off.*
My aim was to cruise the beach coast till I took an inland route to link up with Mount Tambourine road, didn't expect a two car pile up blocking one of the roads for a good bloody half hour!*
Anyway I finally made it into hilly, bendy, beautiful countryside.*
So did the drizzle!
So the first 20k were wet and slippery, but I continued on and enjoyed it anyway.*
Stopping at Canungra in the dry, enjoyed the usual chats, coffee and snacks.*
Took off, thinking it's clearing up now, I'll dry my damp gear on another fun loop.*
Great views! Great bike!*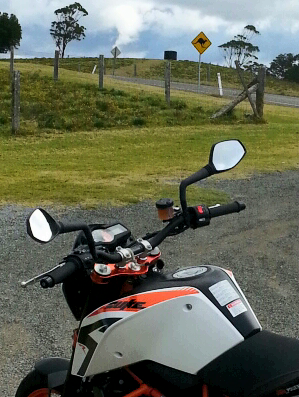 That cloud drop you see in one of the pics, yeah, rode straight into it!*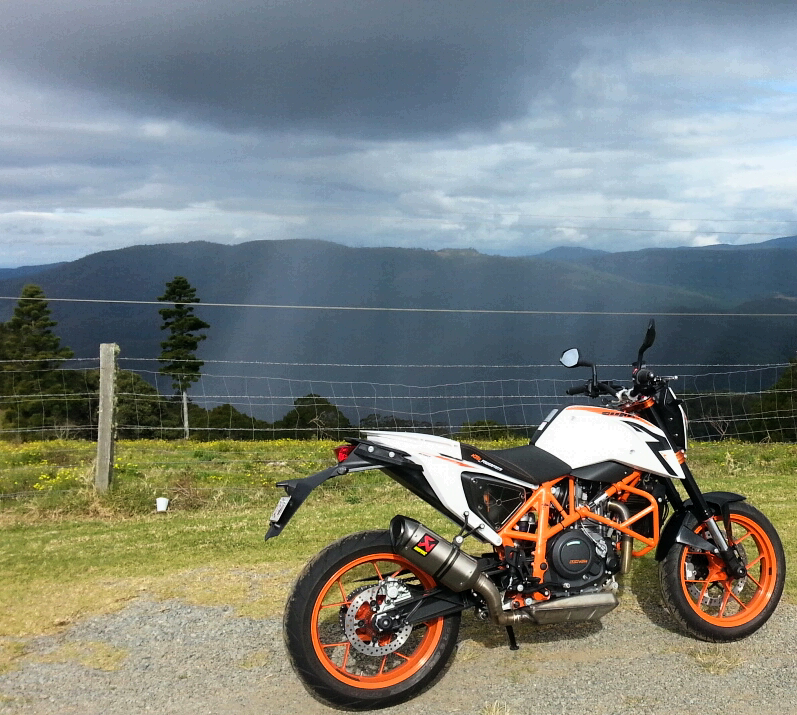 But again, total fun if not a bit cool.*
Ending up back in dry sunny Paradise after another fun day out!*
All these fun roads start within 10 minutes from home, I like that!*
By the way, I have no idea why that * appears after every sentence!?
Early morning walk along the beach is a fun way of checking out whether the clouds that were hanging around were threatening, beachside brekky was my ride planning moment. Life's hard at times you know!*
Took off a little earlier today, *thought I might miss some of the tourist cars along the way.*
A simple Sunday, up to Tambourine in the hills, lots of wiggly road and hairpin fun, continued out and came into Canungra to a huge police presence, they were holding bike safety week and taking surveys from riders to guage experience, safety opinions and the like.*
They said no one will be booked in the town Centre today, I wonder if most of the riders knew that?*
Funny thing, a rider came down the hill and pulled an amazing stoppie, ofcourse there were hundreds looking on when he suddenly saw about 30 police and many patrol cars, freaked out he made a surprising exit at great speed, not a murmur out of the cops lol.*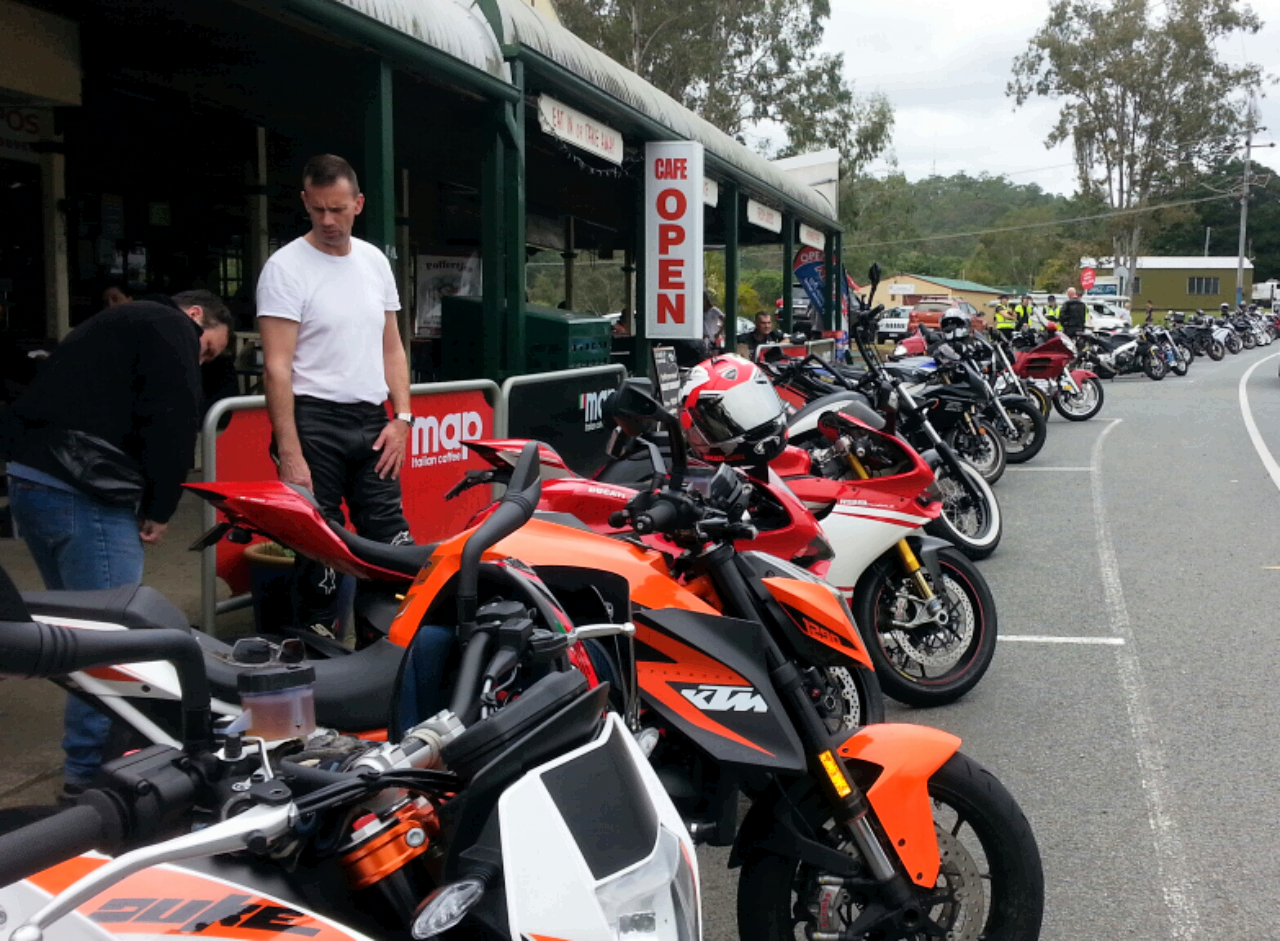 After lots of chat, coffee, cake and a great bike show passing and parking in town, I took off taking Beechmont road, another fine example of hinterland bends.*
Who's the odd one out in this pic lol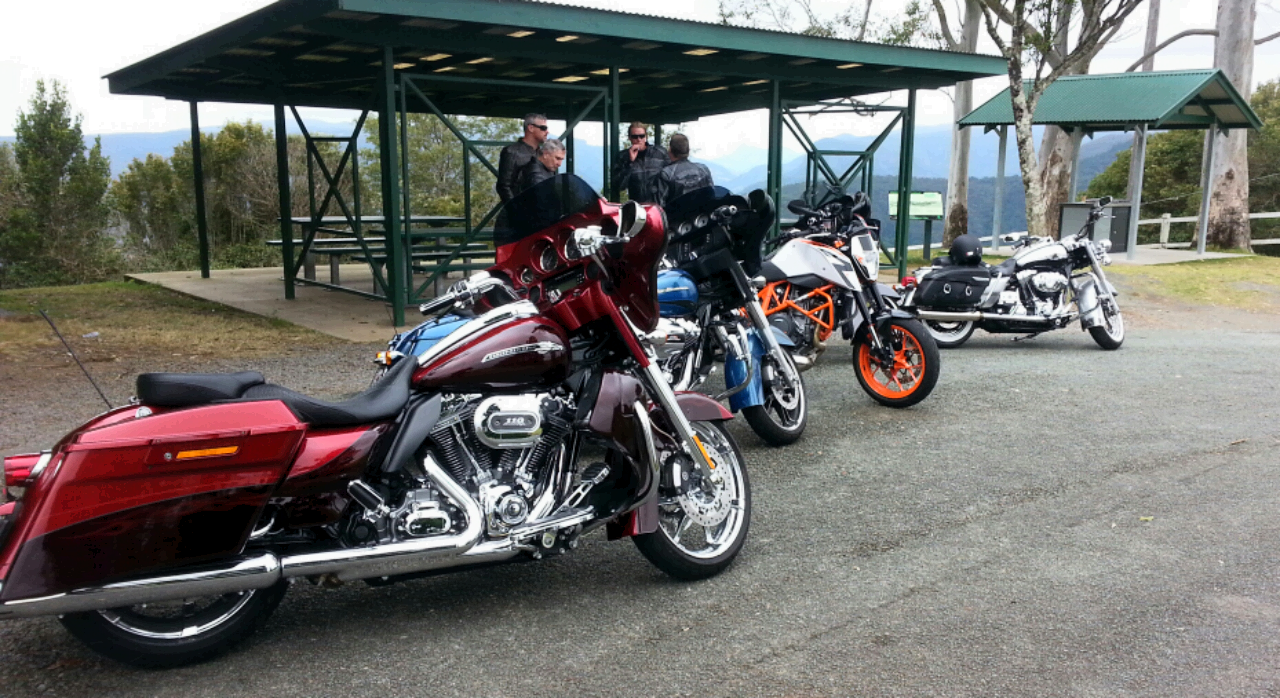 And some great views along the way.*
Finishing up a short and sweet ride, probly 140kms of mainly tight winding fun!*
Posting Rules

You may post new threads

You may post replies

You may not post attachments

You may not edit your posts

---

HTML code is Off

---