Premium Member
KTM Forums Team Racer
Join Date: Nov 2015
Location: UK
Posts: 430
New 690 duke4, ongoing thread
---
Bought a few weeks back, thought I'd put the ongoing stuff in here.
Well the debut/test ride has been taken... I decided that looking at the weather, the forecast and the conditions this would be about as good an opportunity as it gets.
I have to admit I only did about 10 miles, but the conditions were not great, the roads are horrible and it's insanely windy out there to top it all off.
The good news is, the bike goes, runs, rides and changes gear exactly how it should... Power is great, performance great, slipper clutch does exactly what it's supposed to.
It's hard not to draw comparisions directly to the 390Duke, but makes perfect sense to do so as that's what it replaced along with being a KTM and a basis on the same theme of bike.
It's obviously a lot larger than the 390, which is a good thing of course, what this means for me is less moving about on the seat than on the 390, less moving of the feet on the pegs for cornering too, you sit in 1 position really. The overall bike vibrates a LOT more than the 390, but I guess it's one of them things you know before you buy it, but you can feel it through the seat of your pants way more than on the 390, that said, the standard seat seems more comfy than the Ergo seat on the 390, along with the lower footrest position it means you're more comfy on the bike.
Clutch is light as a feather, very impressed. Brakes are excellent although arguably I could do with the lever being a bit closer for my personal preference, but that's being slightly picky, it's got 4 levels of adjustment... I'd just prefer position 5 (which doesn't exist).
Handling, well it's almost impossible to say of course due to dampness and leaves, but it feels more Superduke than 390... The Superduke to me felt like the wheel on the front almost turns too early, more so than you want at times... the 390 didn't... the 690 is somewhere in the middle.
Noise, well it's quiet as it's a standard exhaust... but it's noisy enough that I'm not desperate to change it.
Fuelling... is all good, happy there.. I don't get any perceived KTM fuel injection issues or the running problems that some have with KTMs. Throttle responds well.. although is a little laboured compared to the on/off switch of a Superduke. You open it and it's not WHAM in your face... but then again it's not 120bhp... So what would you expect.
It's now tucked up again and will get a quick clean this evening, adjusting of the gear lever a bit lower, then I doubt it will come back out until March....
So what did we do/learn today....
Well about a week ago I thought, that stupid bloody sidestand extension/expansion/foot thing is the ugliest thing on the planet. Despite the fact that I'm sure it makes parking your bike in a muddy field a lot easier it really was troubling me. It has 3 bolts that screw onto the footpeg and 4 that hold the lower plate onto the upper plate. So the 3 that hold it onto the sidestand were fine... but the other 4 were a problem and wouldn't move at all. Add to this they were made of something closer to Brie than metal they were soon in trouble... So I soaked them over the course of this week in WD-40 and managed to get 1 out today... leaving 3 which were clearly bolloxed.
As I didn't care about the item, I tried various techniques of drilling the bolt... How bloody hard is that. ! I've got a decent (so I thought) black and decker drill but either I'm doing it all wrong or my drill bits that came with it are crap... It also showed my lack of knowledge. I have 3 sets of bits, 1 is harsh and sharp with a pointy bit, the other is smoother and black.. the last set is smoother and metal look.. I have no idea which does what... but none them were great for drilling the bolts.. OK, so I sort of got some headway, but I realised I wasn't getting too far at all.
Out came the little hacksaw... about 4 months (I think) later and it's off... I've lost about 5 stone of sweat and my arms are deaded ! but a bit of sawing and a bit of smacking with a hammer/brute force and finally got it done.
It's clear I'm missing a large chunk of knowledge... but it's done. Quick sand and some spray paint and it's good as new.
This is how the bolts look pre-destruction. His bolts show quite a lot of being buggered too looking at them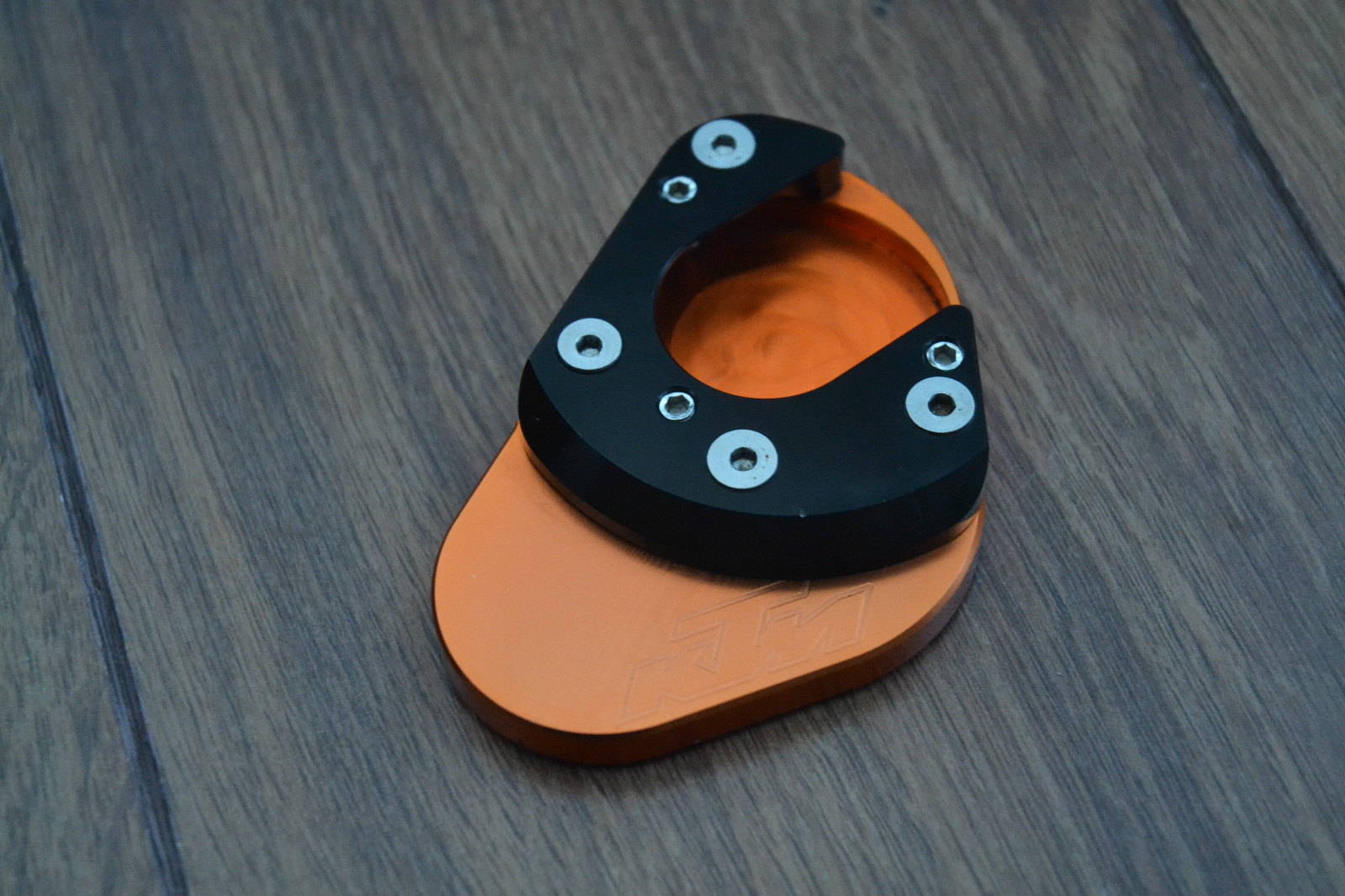 Just ordered a O2 controller from Kevxtx
It has been tried and tested by many before me on many models and the feedback on all the forums is excellent. I also had one on my last XT660X that Pygmys mate owns.
Front mudguard and black number plate fitted
Premium Member
KTM Forums Team Racer
Join Date: Nov 2015
Location: UK
Posts: 430
Bike looks great. Maybe that's because it looks just like mine. Good luck with it. Its getting cold here as well. I'm going to put mine away soon too.
Premium Member
KTM Forums Team Racer
Join Date: Nov 2015
Location: UK
Posts: 430
My new Leo Vince end-can arrived today along with a set of handguards.

Should get the chance to fit them both tonight I hope.
Premium Member
KTM Forums Team Racer
Join Date: Nov 2015
Location: UK
Posts: 430
Well I'd say I'm 90% happy with today's work.
Exhaust was fitted and is happy days. Although it doesn't actually sound as single thumpy as i expected. Video attached is with baffle in, not taken one with it out sorry due to time pressing on.
Speaking of which, damn that was tough to get out! Pulling pulling, spraying in some gt 85, finally it came out. It was then sanded slightly to make sure it's easier next time. I can't say yet if I'll run with baffle in or out as I've only heard it in the garage, but first impressions are, it's not that different either way. So will be based upon which it runs best with.
Then onto the hand guards. All fairly simple really, but pretty tight tolerance on the clutch and brake cables getting in the way slightly. But it's acceptable as it is. You may be asking why no plastics, answer is, it's common to run just the metalwork on track, otherwise you can end up with front end weave issues. So it's just the bars.
If I get a chance on Thurs or Fri and the weather gods play ball giving me a dry road, I'll give it a quick thrash after I do the 15 min reset.
Premium Member
KTM Forums Team Racer
Join Date: Nov 2015
Location: UK
Posts: 430
Premium Member
KTM Forums Team Racer
Join Date: Nov 2015
Location: UK
Posts: 430
I've just picked up a cheap Decat mid-pipe. Reading threads I rekon it's about 70-30 in favour of their bike being fine afterwards fuelling wise.

It weighs in at over 5kg... the decat pipe is <1kg... so it's a decent saving.
Apparently it does make the system noisier... we'll see how much noisier once it arrives... but I've got the baffle for the Leo Vince anyway just in case.
If it balls up my fuelling I paid a decent enough price that I can ship it out quickly for the same money. But on a bike that weighs only 150kg out the box anyway a 5kg saving plus the 1kg I've dropped from the tail section added to the 3kg on the exhaust gives me about 9kg weight drop, which obviously can't be a bad thing.
Premium Member
KTM Forums Team Racer
Join Date: Nov 2015
Location: UK
Posts: 430
Well apart from me stripping the Cat off and cleaning the bits I can't reach... that may en up being a bit of a waste of time.. but i'll keep a slightly open mind until the de-cat pipe arrives and is installed.

So what I did was mount the can directly only the first part of the header, the de-cat is about 18" long when it goes on the bike roughly. Would that 18" of pipe make a massive difference I guess is the question I'm asking ?

With the can fitted and baffle out... it's INSANELY loud.... with the baffle installed, well, it's just ridiculously loud.

From my own sanity and also from my neighbours persepective, not to mention my trackdays which are obviously noise regulated, it's simply not going to work if the extra 18" doesn't make it a bit quieter.

I never for a second thought a cat could make such a dramatic difference to the noise.
Premium Member
KTM Forums Team Racer
Join Date: Nov 2015
Location: UK
Posts: 430
Well that could be a complete ****ing nightmare indeedy. The day started off OK, then went rapidly downhill.
Basically there's a bracket that goes from the frame to the exhaust mount.
Yesterday I had to remove the bracket for the exhaust, well, I arguably didn't HAVE to... but if you leave it on it just hangs down and looks ridiculous.
Only I removed it you're then left with a gap where it was... so I used a caliper mount spacer I had lying round which fortunately was the exact size and dimensions to fit in the hole it left.
Sadly.... this now doesn't come out... as it's EXACTLY the right size and dimensions...
I thought, OK, I'll just remove the arm, see if I can get it out with something on the opposing side.... this didn't go to plan either...
To remove said bracket you need to remove the exhaust.... to remove the exhaust you need to remove the radiator. You're then stuck with about 4000 parts all over the floor lol.
Eventually I got the exhaust off, the rad off and then FINALLY the bracket off....

However, can I buggery get the bloody spacer out of there
Senior Member
Join Date: Oct 2015
Location: Tauranga, NZ
Posts: 116
Not sure what's going on there...I removed my bracket without having to remove anything else!!
Posting Rules

You may post new threads

You may post replies

You may not post attachments

You may not edit your posts

---

HTML code is Off

---