Junior Member
Join Date: Feb 2017
Posts: 7
2010 Duke 690 using newer Speedometer not compatible?
---
Hi, my speedometer on my Duke 690 (2010 yr) is dead due to water corrosion . However I managed to find a newer good condition speedometer from a 2013 Duke 690 (ABS).

Everything works fine except the speed and the trip are inaccurate. For example if I am traveling at 80kmh, speedo will shows 9kmh or if I am traveling at 50km the speedo will shows 6kmh.

Also if I have traveled 100km in distance it trip mileage only shows 6.7km.

May I know how to solve these problems? Rewiring? Speed sensor (ABS) not compatible? Any tips? Thanks!
---
Last edited by zxcmunlok; 02-13-2017 at

07:37 PM

.
This is not a problem. It is a viable excuse to go faster.

Seriously, I think finding a solution will be a struggle.
---
Quote:
It's literally hard to explain how good they are
To view links or images in signatures your post count must be 10 or greater. You currently have 0 posts.

Junior Member
Join Date: Feb 2017
Posts: 7
I tested further this time. Seriously everything is working such as low fuel warning, turn signal indication, neutral light, engine temperature, rev indicator, clock and etc. Except speed and trip!

I think is the speed sensor located at the front wheel is different. Probably the newer duke with ABS works differently. Seriously no one encountered this before (swap/use newer speedo) and successfully solve this problem?
Silver Member
Join Date: May 2014
Location: Pennsylvania
Posts: 310
You need something like a Speedo-Healer but whether you could adapt one I have no idea.
---
'61 BSA Clubman's Gold Star, '13 Daytona 675R (track bike), '13 Duke 690, '14 Street Triple R
If its fitted exactly the same position and contacts with the other part of the sensor the same it might be different electrical spec.How about some pics of the mounting position?
---
current -2007 690SM
Junior Member
Join Date: Feb 2017
Posts: 7
Here are the pictures of 2010 Duke 690 disc brake. You will notice that it's non ABS and the sensor detects the six bolts (the ones holding the disc to the rim) for speed and trip calculations. The current Duke's sensor looks and mounted differently.

The second pic you will see the flat sensor with two screws. The third pic showing the sensor can be mounted on another position (outward) maybe for mounting ABS type disc.
---
Last edited by zxcmunlok; 02-14-2017 at

09:14 PM

. Reason: *** more details
Junior Member
Join Date: Feb 2017
Posts: 7
This picture shows the current Duke with ABS. It detects the speed using the ABS round disk (the one with many tiny holes). Not sure if I put one into my duke will work or not because I did noticed that my sensor can be position differently if you look at the third pic above.
i did not get my bearings from your pics .
One thing is for sure.
the 07-11 models didnt change much
12-15 same
16-current.
2010(no2)
62514068100
62514068200
SPEEDOMETER SENSOR 06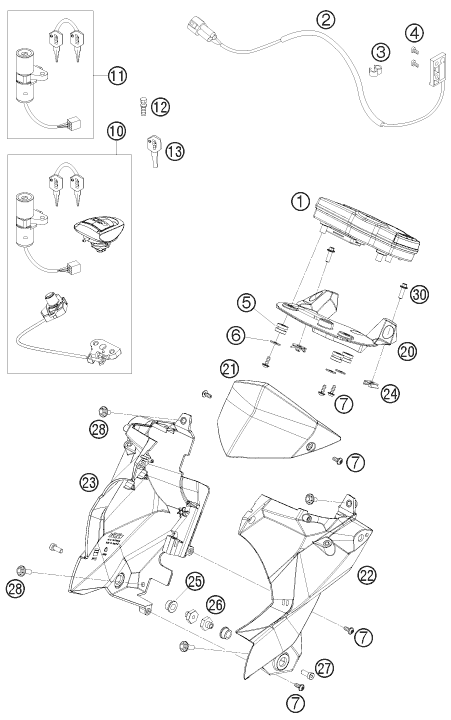 2012(no15) abs sensor only, the speedo sensor is not available.(atleast i could not readily find it in parts.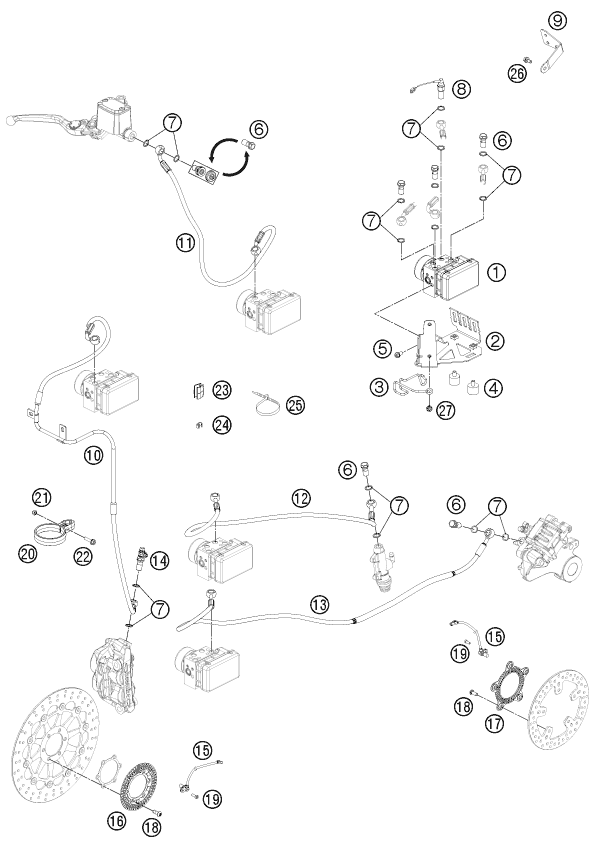 ---
current -2007 690SM
---
Last edited by cors187; 02-15-2017 at

04:06 AM

.
When speedo sensor for 2012 is searched(its not available in the same instrument search when searching 2010 speedo sensor.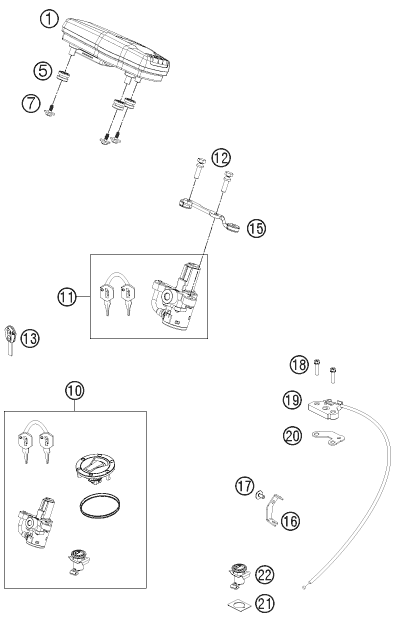 ---
current -2007 690SM
Junior Member
Join Date: Feb 2017
Posts: 7
Thanks for the information. The first pic shows the older duke speed sensor and the second pic shows the newer speed sensor (integrated with ABS).

Actually you have already found it in the diagram under 2012(no15) abs sensor only.
Posting Rules

You may post new threads

You may post replies

You may not post attachments

You may not edit your posts

---

HTML code is Off

---