Discussion Starter
·
#1
·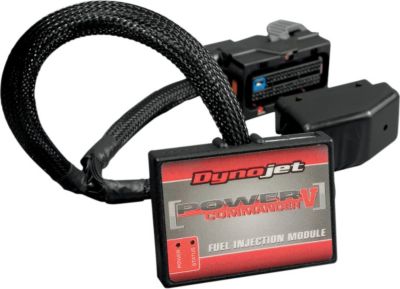 The
Dynojet
Power Commander plugs inline with your bike's stock fuel injection system. It uses OEM style connectors making installation easy and quick. The Power Commander III USB allows a full range of fuel adjustment, as much as +/- 100% over stock. Adjustments can be made either
with a Windows based computer
or by using the face plate mounted button adjusters. No permanent changes are made to the bike's system. Once the unit is removed the bike reverts to its stock settings.
On select models, gain control over fuel delivery AND timing with the new Power Commander V with fuel and ignition control. The best of both worlds, now you can realize all the benefits of the Power Commander V and the Ignition Module 5 wrapped in a single enclosure. This Power Commander V is available for select twin cylinder engines including Harley-Davidson.
Review
of the Power Commander 5
The Dynojet Power Commander 5 features
:
Dynojet added a gear/speed input function on the Power Commander 5 allowing for map adjustments based upon gear and speed for maximum performance.
The Dynojet Power Commander 5 is less than half the size of the older Power Commander 3 making it easier to install and find a place for it.
A 2 position map switching function is built in for maximum flexibility in tuning.
The Dynojet Power Commander 5 has an enhanced 'accel pump utility' which increases the sensitivity range for maximum performance.
Shop KneeDraggers.com for your
Dynojet Power Commander 5
here!