We are starting the year off with some special deals. We will be offering new items almost everyday. Check back to see what we have.
Offers are good for a limited time.
*
Register on our website to access discounts on non-sale items. The sign-up is under the log-in box in the products section.
-------------------------------------------------------------------------------------------------------------------------------------------------
Last of the "D-Skin" Dainese Laguna Seca suits now priced at $1199--on sale for only $799
DAINESE "Laguna Seca Perf" 1-Pc. Suit: Yellow
$799
DAINESE "Laguna Seca Perf" 1-Pc. Suit: Blue
$799
we also stock black, red and white.
BELL Star: Recoil Blue $399
BELL Star: Recoil Blue
regular $549
Closeout price $399
The feature-packed Star is equipped with Bell's exclusive Velocity Flow Ventilation™ system with FlowAdjust™, a revolutionary airflow management system that literally creates a natural flow engine that pulls air through the helmet, and keeps the rider's head cool and dry.
The Star's super stable aerodynamic signature was derived from open-cockpit auto racing designs that enhance stability and resist lift. The truncated shape keeps the Star calm at speed, while the sculpted chin contours give the helmet a smooth, linear feel when doing head checks. For track days, the Star comes with the Track Strip™, an add-on wicker that further improves stability at speeds in excess of 130 mph.
The Star's 3Mode Shield™ with ClickRelease™ is simply the easiest shield to use and change. On the road, it works in conjunction with a special multi-stage chin vent that sends air up the inside of the NutraFog II coated shield to virtually eliminate fogging.
The helmet's auto racing-inspired shape is crafted out of Bell's super lightweight Kevlar®/carbon fiber/fiberglass TriMatrix™ Composite and is sculpted into a wind tunnel-proven, super stable, lift-free design.
Round it out with Contour Cut Cheekpads for superior fit and comfort, a removable and washable, antibacterial/antimicrobial interior comfort liner, a plush helmet bag, not to mention a five-year warranty, and you have a helmet that's more than worthy of its heavenly moniker.
Free Helmet Bag:
The Bell Star is delivered inside THE nicest helmet bag we've ever seen. It's very well made and even has an embroidered Bell logo on one end. It has a soft interior and same for the extra visor sleeve. There is also a large zippered compartment on the outside as well as a smaller fishnet compartment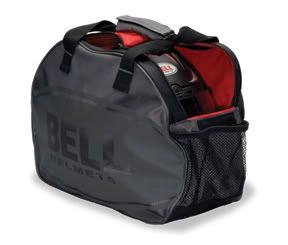 * Register on our website for passwords to access similar savings on the other models/colors.