Bike: 2010 RC8
Symptoms: coolant leaking from the weep hole. At first it was just a few drops, then over a year's time had excessive leak that spewed coolant all over the left side of the engine and onto the tire/tyre. No other leaks around the pump.
Research: Searched all over the internet and by process of elimination figured it was the wear bushing with seal that had worn out.
When I pulled off the pump housing, propeller and bushings, this is what I found.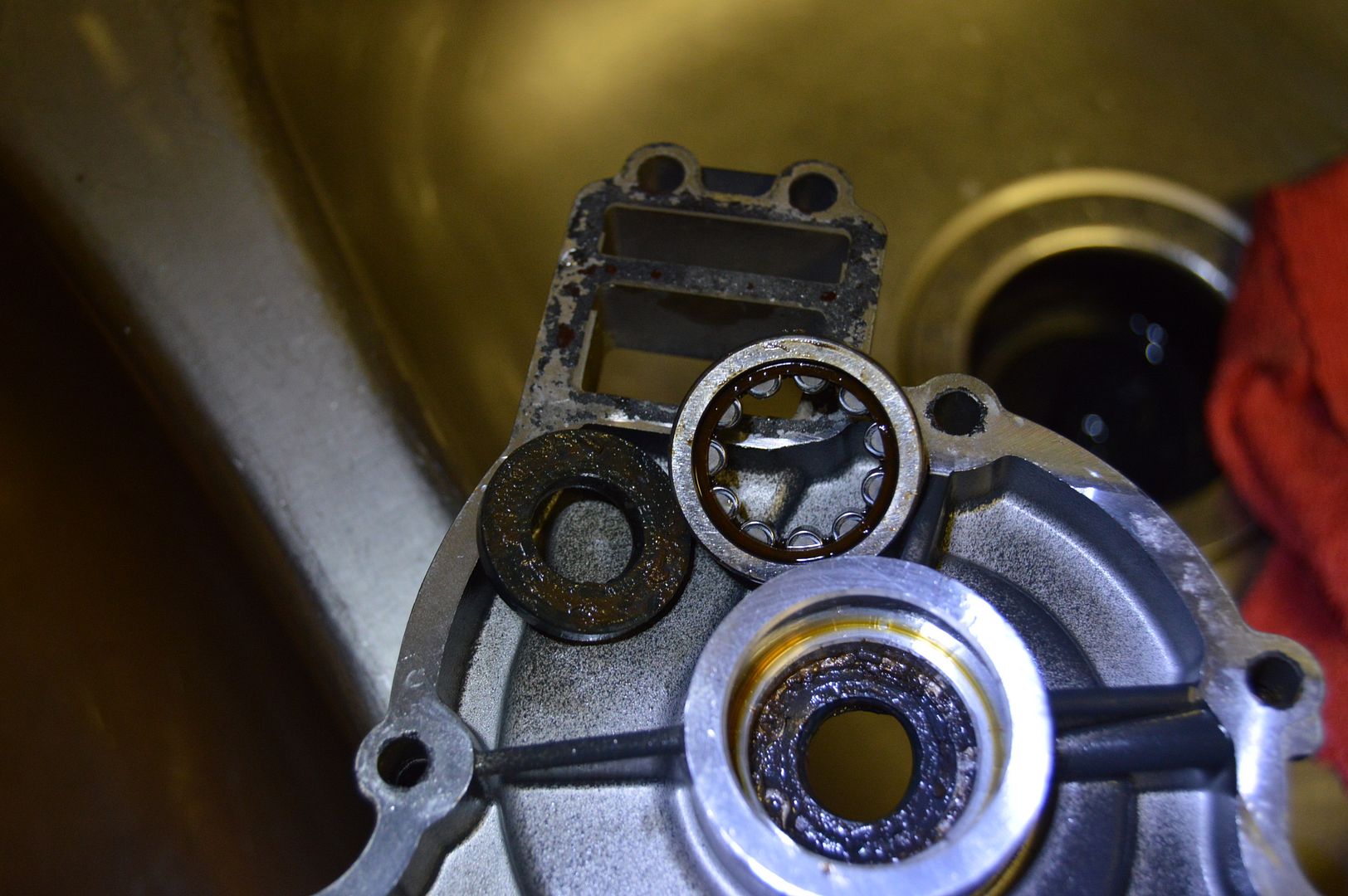 And the weep hole was all grungy, cleaned it out with a pipe cleaner and soap.
The Fix. First I ordered all the internal parts that I thought I would need:
Molded Ring Water Pump Cov. 08 61235061000 $3.77
Water Pump Rotor 61235055000 08 $4.15 (didn't need it but replaced anyway)
Form Washer 16X1 Niro 03 60035055150 $7.62
Wear Bushing With Seal Ring (old part #61235065144) 61235065244 $36.57
O-Ring 5,0X1,2 Nbr 70 0770050012 $1.99
O-Ring 9X1,5 V75 Sh Din 3771 07700900151 $1.99
Circlip Din0472-30X1,2 Niro 04720300121 $3.00
Cyl.Roller Bear. Nj202 Ecp C3 0412153511 $46.89 (didn't need but replaced anyway)
Then I pulled everything apart.
Prior to this picture I removed the clutch cover, not sure if I needed to do that, but did it anyway since I had to change the oil. Just remember the location of the bolts, some are longer than others.
I unscrewed the bolts next to the blue arrows, removed the radiator hose (red arrow to to the right) and pulled off the cover using the little lip to pull (red arrow to the left).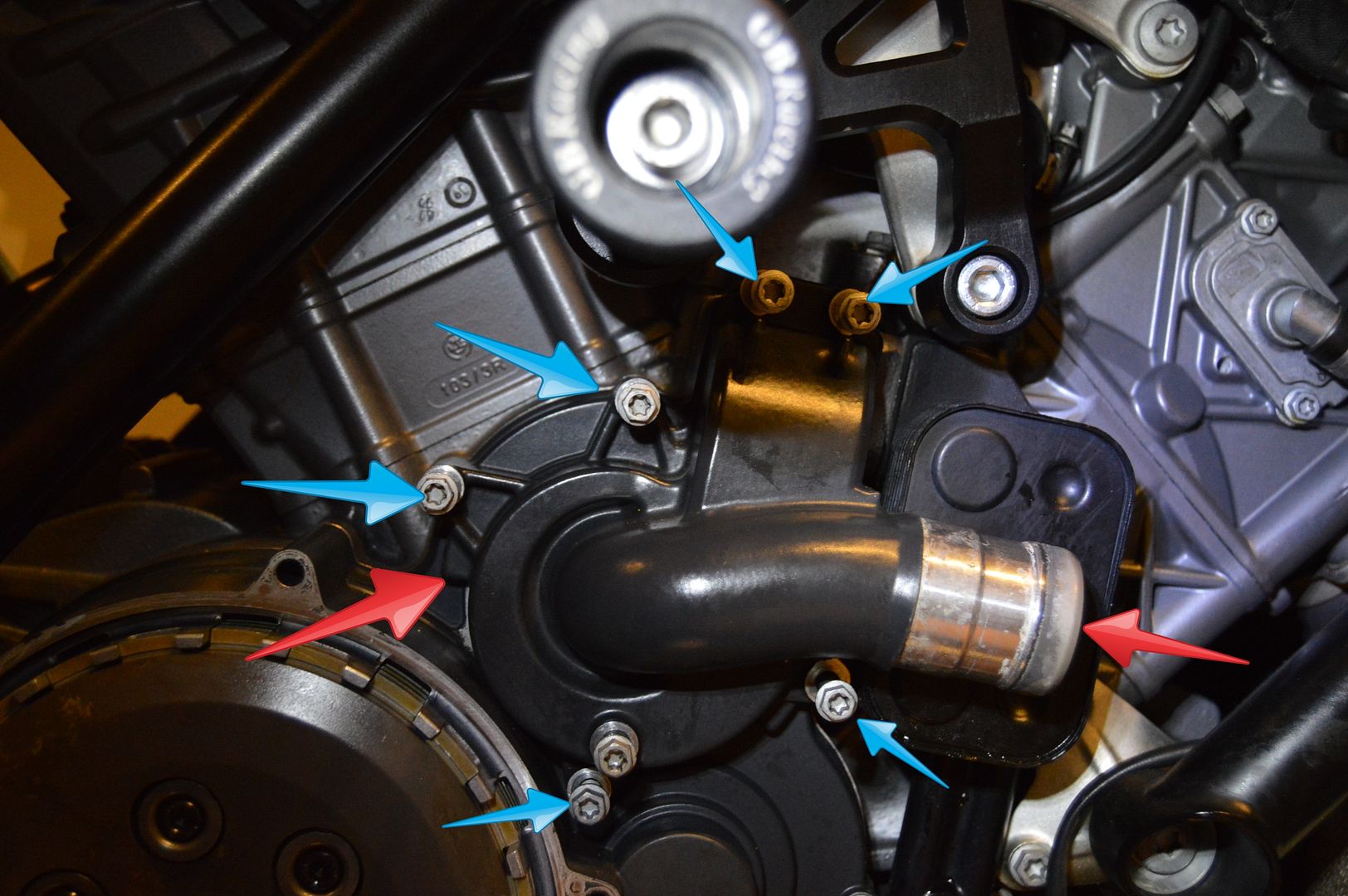 Remove the fan bolt.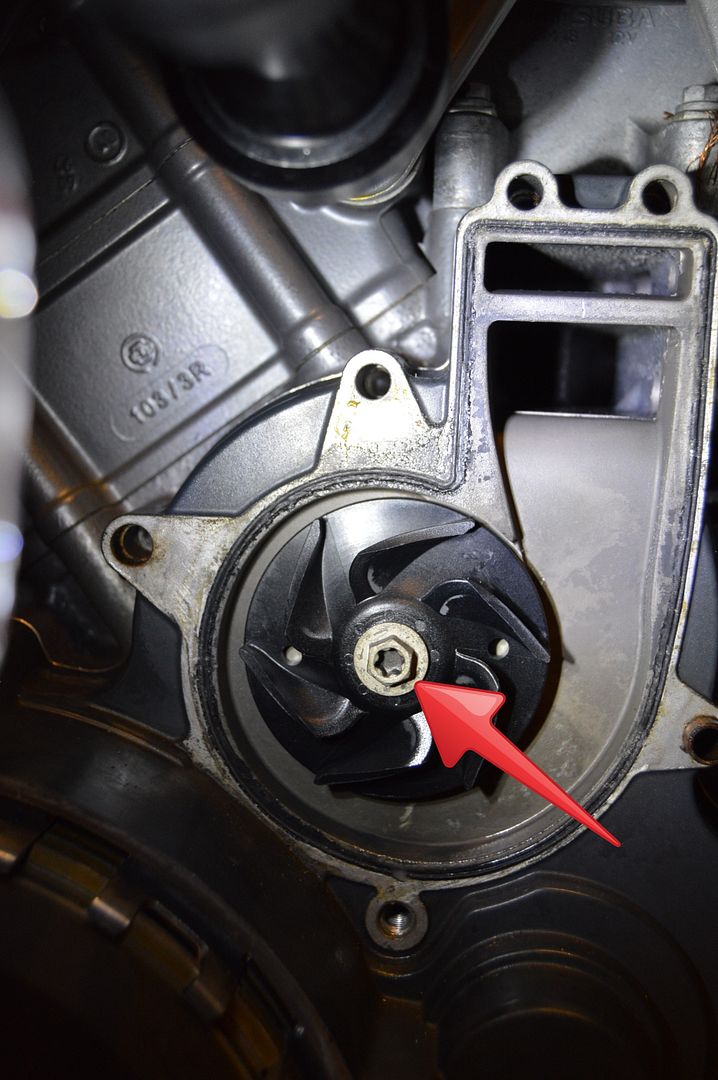 Then the wear bushings, there are two. Then I carefully tapped out the roller cycle roller bearing.
After that just replaced the parts, and put everything back. I was scared to do it at first but once I started, it was very easy.